Utilisation du Logiciel RCFMF
(Séquence extraite directement du logiciel)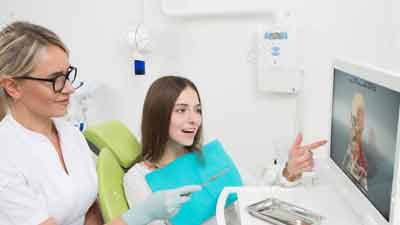 Praticienne présentant à une patiente la
projection du traitement sur sa pathologie
Explore through our Real-time 3D Software
Enter the cranio-facial complex thanks to the real-time 3D software and navigate freely through space to observe the anatomy, the dynamic, the physiology, the adaptation and pathologies…
This unique software regroups:
The morpho-functional model is composed of five entities and a harmonious manducation. The FIVE entities that compose the cranio-face : skeletal structure, dental structure, ligamentary-disc structure, neuromuscular system and general posture (bones and muscles).


The FOUR manducatory conditions : « Centered » Functional Relation, Posselt diagramm, Open-Close, Functional Occlusion, Functional Mastication.


The morphologic, functional, adaptative or pathologic Diagnostic of syndromes classified based on the definition of the morpho-dysfunctional model : minors adaptatives, major adaptatives or pathologics of the Dysfunction of the Manducatory Apparatus. The cephalometry, hinges axes, clinic marks.


The orthodontic, chirurgical and prosthetic treatments.
In a concern for aesthetics, the 3D software can be accessed only from PC or Mac.
Subscribe